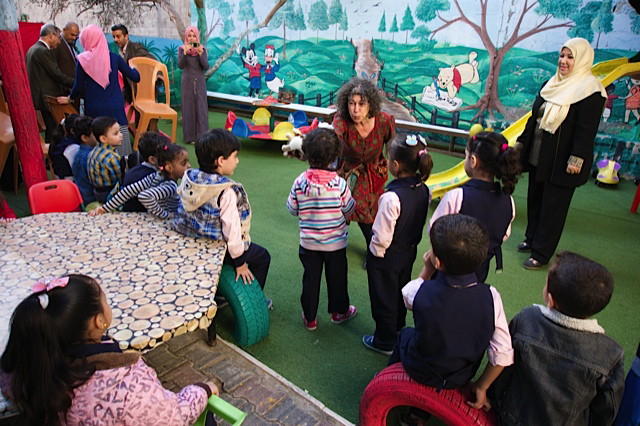 (Washington Physicians for Social Responsibility has traveled to Gaza since 1993. Since 2009, following the Cast Lead invasion by Israel, WPSR has sponsored 12 medical delegations to serve the people of Gaza.)

D'vorah Kost, member of our delegation, spread laughter this morning as she magically entertained the children of a Gaza kindergarten. The children were delighted with her marionettes and her stories.
Hope is a critical component of mental health in this imprisoned land. In each visit to Gaza, we are impressed by the creative ways that schools and treatment facilities work to create a sense of hope in the children who live here.
We are told that families are struggling to maintain resilience – so many children have been orphaned in war and so many families are without employment – making reliable family life more and more difficult. Teachers and mental health professionals are working to find what will support the new generation in maintaining the ability to cope. D'vorah demonstrated this morning the importance of laughter in building resilience.
Our delegations always seek donations to provide medicines for the Gaza Community Mental Health Programme and we were able to deliver medicines to the clinic this morning. GCMHP serves the population of Gaza through clinic work, telephone consultation and community outreach. The service of this organization is critical to Gaza!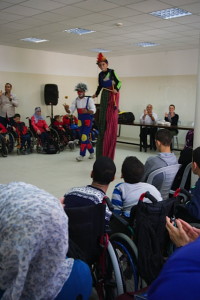 Today, also, we were able to participate in the activities of Palestinian Avenir, the center for treatment of cerebral palsy in Gaza City. The director of this center embodies an inspirational spirit – bringing joy to the children who are served here and constantly finding unique and loving ways to care for these children.
The Center will soon be expanded to serve children with hemophilia and thalassemia. Additionally, in this land of extremely limited electricity, a donation from the Czech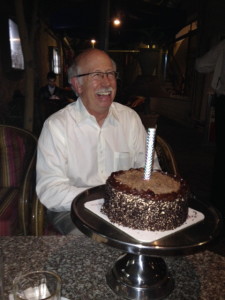 Republic is making it possible for the Center to install solar panels that will provide electricity for the six-story facility!
To end this day, the wonderful staff of Gaza Community Mental Health, presented Bob with a chocolate cake and a beautiful rendition of "Happy Birthday!"
— Gerri Haynes