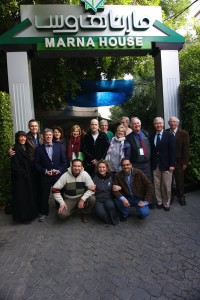 Although most of our group will be in Gaza until Sunday, Clyde Farris had to return to the States early, as do Rich Grady and Laura Hart, so we gathered this morning at Marna House with Dr. Yasser Jamei, Medical Director and Marwan Diab, Public Relations Director of Gaza Community Mental Health – so grateful for this gathering!
In a class at the GCMHP Deir El Belah clinic this morning, we spoke of grief. The causes of grief in a land under constant threat of bombing are complex. From the grief that accompanies the physical loss of loved ones, loss through traumatic injury, loss of function, loss of hope. The list is long.
We discussed that the standard description following war – Post Traumatic Stress Disorder (PTSD) – does not apply. There is no "post" here – there is continuity of threat and stress and trauma – and the result is not generally a disorder, it is more appropriately viewed as a series of injuries: Continuous Traumatic Stress Injury. The need for mental health workers to care for themselves is critical.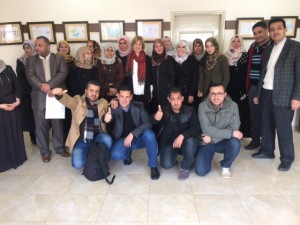 No one in Gaza is immune to the stress of the ongoing siege and the possibility of further attacks and there is a constant need for the excellent work of mental health professionals. The Gaza Community Mental Health Programme works throughout Gaza – providing services in many settings.
One of our group, Janet Wright, wrote: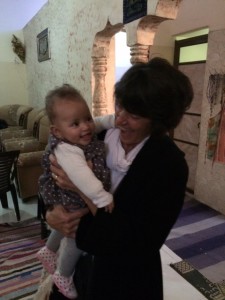 "Eighteen mental health clinicians at the Gaza Community Mental Health Program in Gaza City participated in a five-day training led by Janet Wright, LCSW, on treating psychological trauma in children. The training included three days of treatment for children who have experienced trauma, grief and loss as a result of war and political violence."
Dr. Chuck Cowan has continued work on autism during this visit – work that has brought him to Gaza several times.
Today, Dr. John Soos completed five days of dialectical behavior therapy training at Gaza Community Mental Health. John's joyful approach to work here has inspired our group!
Tomorrow, we will have a tour of parts of Gaza most affected by the 2014 attacks.
(Washington Physicians for Social Responsibility has traveled to Gaza since 1993. Since 2009, following the Cast Lead invasion by Israel, WPSR has sponsored ten medical delegations to serve the people of Gaza.)